At a time where mass transit systems are facing the burden of under-investment, increased congestion, and pressure to be green, many are operating under out-of-date models. "Clipboard and pen" methods of transit yard management need to be updated to create more comfortable working environments and a better service for passengers in a more complex working environment. This is all achievable when using a tried and tested Transit Management RTLS (Real-time Location System).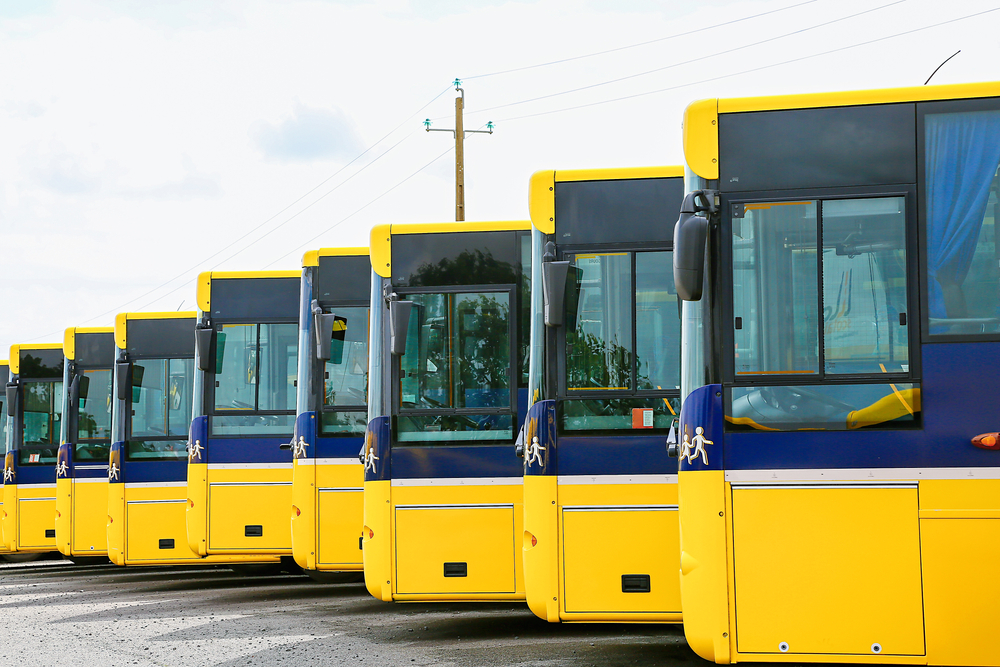 New Problems In Transit Yard Management
Many of the problems facing transit yards have existed for decades, but there are new problems that have started to affect the smooth operation of various transport hubs, and cut into the hub's profitability. These include:
              The electrification of bus and coach fleets
Electric busses and coaches are one of the many ways mass transit systems can help protect the environment and prevent global warming. However, the shift to electric has brought with it the problem of charging vehicles with limited charging points. Many transit hubs are struggling with the often-complex reshuffling of vehicles that takes place when vehicles need to be charged, often at short notice. Calculating the most efficient path of parking and moving vehicles around a site can be trying even for experienced transit hub managers.
              The increased mix of vehicle types
Adding to the above complexities, the variety of vehicles on offer can make both the storage of and maintenance of a fleet more complex . The growth in multi-modal transport hubs (which can bring together rail, busses, bikes and pedestrians) also adds a new layer of potential problems to a diversifying fleet of vehicles.
              Insufficient personnel
In many countries it is becoming increasingly difficult to staff transport hubs and to find enough drivers and maintenance workers to ensure a hub operates smoothly.
              New safety issues
As transit hubs become more complex or grow in size, new safety issues can arise. Inadequate staffing and training can lead to unexpected hazards and a lack of safety awareness, but new vehicle types also present new safety problems. Although rare, fires in electric vehicles can present a serious hazard to both worker safety and a hub's operational performance. Having electric vehicles parked side by side could potentially increase the risk of at-risk vehicles causing multiple fires, so an extra burden is placed on the site managers to coordinate parking in the most risk averse manner.  Ensuring EV batteries are not being charged over long cycles will also reduce the chances of battery fires.
Traditional Problems In Transit Yard Management
Of the problems common to many transit yards, some of the most common are:
Connecting Systems
Most transit yards have a variety of systems and software packages designed to handle the scheduling, maintenance and charging systems for either a single site or several. Often these systems are not properly integrated with one another and don't feed each other data in real time, causing preventable bottlenecks and scheduling issues.
Eliminating Manual Markups
As vehicles enter and depart from transit hubs, and maintenance, and refueling tasks are completed, manual tracking of these activities, including moving about a site by foot are commonplace. These time-consuming and error-prone activities are holding back many transport hubs. Information gathered and conveyed in real-time to a central visualization tool can quickly improve efficiency and lower staff working hours.
Process Monitoring
Radios and visual checks are the most common ways of tracking operations in transit hubs. It can be hard to track deviations in plan when drivers only check in by radio on set occasions. This lack of transparency makes identifying process errors more difficult, especially when there are sudden changes to schedules and operational procedures.
Multi Depot Management
Many transit companies work across multiple sites and require some level of integration between vehicle tracking systems and maintenance and refueling information. This has traditionally been difficult to achieve, and many different transit hubs under the same umbrella will operate using different, non-integrated systems. This will lead to service disruption and increased operational costs.
What Ubisense Does
Ubisense helps manufacturing and logistics businesses track and improve their processes. Using class-leading DIMENSION4™ sensing technology and our  SmartSpace® platform, we can track the precise location, movement, and interactions of everything within these processes. Transit Yards are one of our core markets and we have a wealth of experience in setting up our RTLS (Real-time Location System) and driving cost-saving initiatives.
Tags, Sensors, and Software
Almost all RTLS systems will make use of tags, sensors, and software. Most people will be familiar with RFID tags, which are one of the simplest technologies for tracking assets. Ubisense offers a wide range of sophisticated sensors and tags which can interact with each other over the distance of almost any indoor or outdoor business environment. We have sensors and tags for every condition, from particularly harsh weather extremes to deeply complex indoor environments. The data gathered by our tags and sensors is fed into our SmartSpace® platform which processes and visualizes data, allowing site managers to gain a better oversight of their processes, prevent system errors, and drive cost saving initiatives.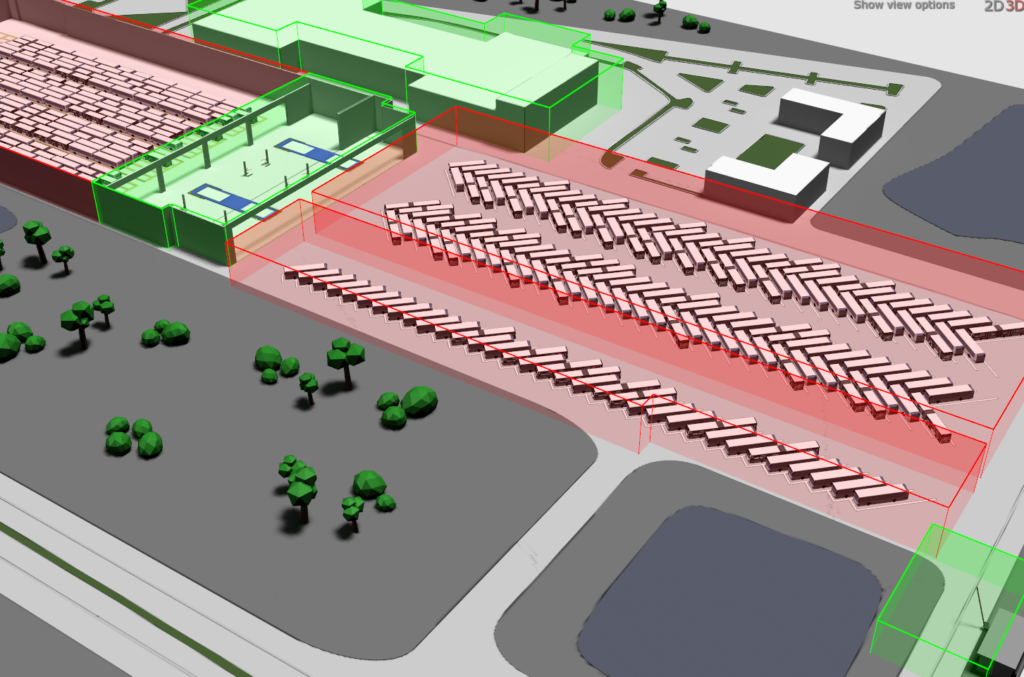 Ultra-wideband (UWB) & GPS
Not all RTLS systems are created equal. Many depend on older, less sophisticated technology but Ubisense makes use of the most up to date UWB technology, as well as RTK GPS for outdoor environments, blending the systems together seamlessly. UWB has become the new high watermark for indoor location services as it offers high levels of position accuracy and suffers from less interference than Bluetooth and Wi-Fi alternatives. The level of accuracy also widens the possible use cases in Transit Yard environments. While UWB is available for outdoor settings, our RTK GPS can  offer accurate tracking in large outdoor spaces, allowing Transit Yards to benefit from the latest technologies with a reduced need for individual outdoor sensors.
How the Ubisense System Functions in a Transit Hub
All Ubisense Transit Yard management systems include pre-configured SmartSpace® software and an RTLS to track the location, movement and status of vehicles across indoor and outdoor areas with a variety of functionalities. These functionalities include:
Digital maps of your facility
A browser-based map of your facility can be created using CAD files, along with specific icons for spaces, vehicle types, and statuses. New icons and vehicle photos can easily be imported, scaled, and orientated.
Defining vehicles and spaces
Define different vehicle types and their representative icons (vehicle model, capacity etc) and create virtual space types in 3 dimensions, such as parking areas, cleaning areas, fueling stations, and inspection and maintenance areas.
Location System data connection
Connect and track any current or new Location System data including UWB and GPS data, depending on requirements. Process tag location data as well as battery status and assign tags to vehicles via an easy-to-use web form, barcode scan, or CSV import.
Authentication and user access
Assign roles to different users of the SmartSpace web interface using an Active Directory.
Create alerts
Create pop-up alerts, email notifications and icon updates based on entry or exit of defined zones, vehicles requiring maintenance, cleaning, or fueling, and last known locations of "lost" assets.
Pre-configured searches
Filter and locate vehicles using properties like Vehicle ID, Type, Category, Sub-category, Location, Status, Assigned Route.
Reporting
Make use of real-time reports showing all associated tags, all vehicles by type and space, all vehicles not located, all vehicles with a maintenance date, and location histories of vehicles by defined spaces, including dwell time.
Application and System Integration
The ability to integrate with existing scheduling, dispatch, and maintenance systems through CSV file, RDBMS integration or API.
Optional Functions
Custom reporting and dashboards can be created as necessary. Advanced IT services can also be requested, including high availability setup (failover and dataset replication), test and production environments, and health monitoring.
Key Outcomes in less that 12 months
With the above functionalities, typical transit authorities can expect:
The complete elimination of search time waste
Cost reduction through workflow optimization and task automation
Optimal space utilization
The elimination of dispatch errors
Improvement in on-time pull-out performance