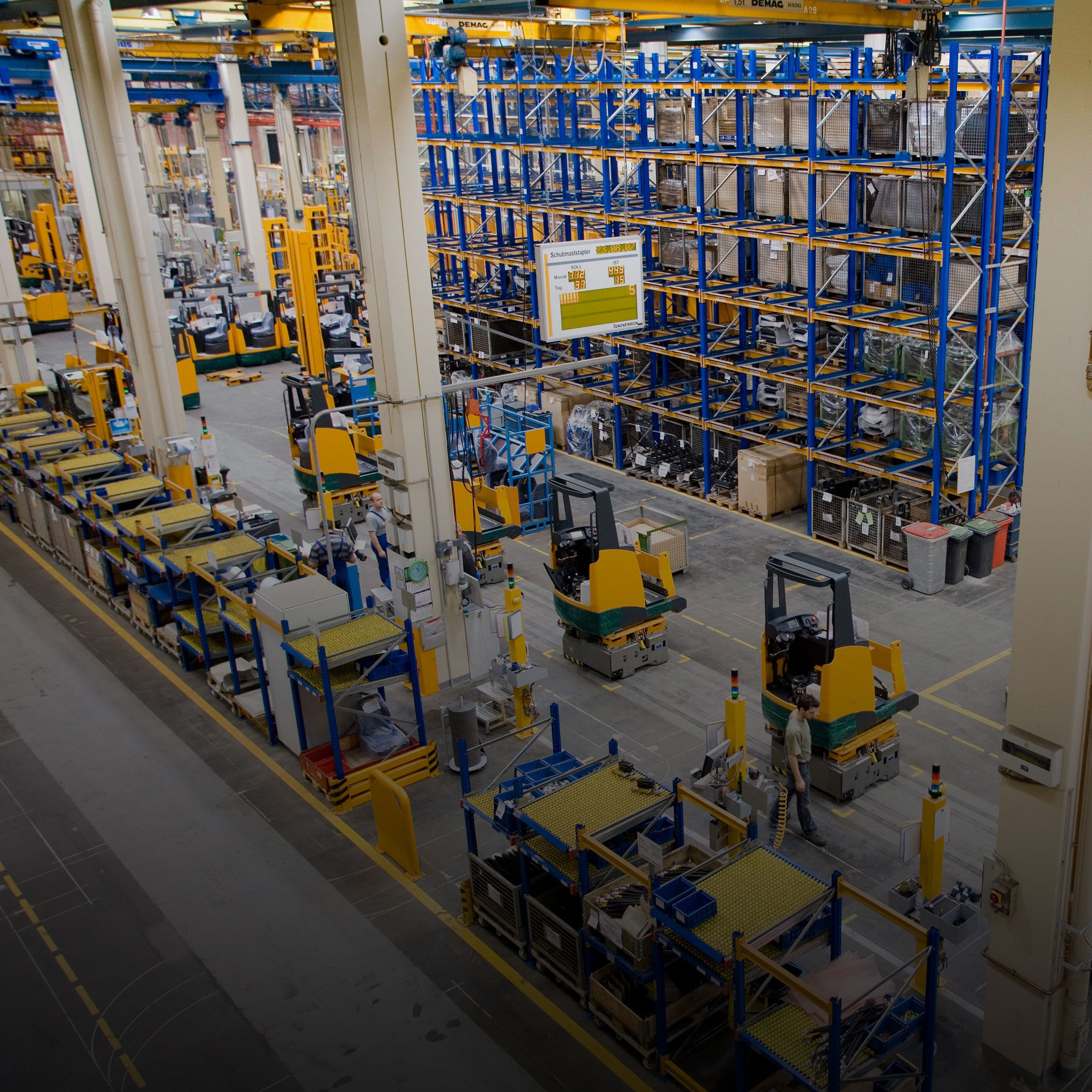 Erase parts and kit shortages.
Automate alerts for shortages in parts and kits, and ensure that instructions are sent preemptively.
Link material distribution to production schedules to optimize usage.
Track material usage to prevent wastage and overstocking.
Use SmartSpace HMIs to support kit creation and perform kit inspections.
Optimize fulfilment and equipment flows
SmartSpace provides a flexible set of tools for recording and analysing object locations and space 

utilisation over time.

​

This information can be used to provide real-time situational awareness necessary to optimise 

logistics routes and driver order allocations.  SmartSpace can automatically monitor which routes 

are clear and which routes are blocked and re-prioritise fulfilments based on route availability.
Support any goods movement strategies
SmartSpace can be configured to support any desired movement strategy for goods or inventory. Policies and strategies are configured within the business rules engine of SmartSpace. ​
Customers can use SmartSpace to visualise inventory status through a number of different UI capabilities, including Web Maps, Dashboards and Reports.
Digitize delivery operations and track equipment utilization
The entire logistics process is tracked in real-time with guided instructions for operators. SmartSpace shows the equipment assigned to each delivery task and controls the instructions given to the operator via a digital display. Using precise location and movement tracking, SmartSpace knows when the material handling equipment arrived at the designated pickup area.
Once delivery is complete, operators are directed to the location of their next task. If delivery is made in the wrong area, alerts will be sent and operators will be guided to the correct location.
Control inbound logistics
Reliably check parts from 3PL sites into storage, logging the location and quantity of all items. ​
Automatically inform production of the levels of inventory available, and how long it will take for a production order to be fulfilled (including time for transportation from storage to production).
Remove manual elements of check-in, kitting, inspection and delivery – data is automatically entered into IT systems.
Integrate with other tracking systems, incl. RFID, GPS, BLE, and Vision.
Control Outbound Logistics
Finished products are tracked as they are transported to the logistics area and their status is automatically updated.
No products will leave the site until SmartSpace confirms all necessary checks have been made and approves the product for delivery.
Order tracking and management leave a full audit trail, including product history.
Using the Ubisense Dimension4 real-time location system (RTLS), BMW tracks the location and movement of trolleys carrying parts and materials to the assembly line. Production stoppages due to parts shortages or delays in the delivery of parts are prevented with real-time control of the logistics process.
Why Ubisense
Assembly processes are often fixed and mechanically controlled, making it difficult to rapidly react to problems or build highly variable products on the same physical line.
Ubisense is the industry leader in applying location solutions to fast-moving, complex assembly lines. Our Dimension4™ sensors have been perfected to operate reliably, 24/7 for decades in the world's most demanding factories.
6 sigma reliability for precise location data
Proven scalability to 1000's of sensors updating in real-time
IP69K rated industrial grade tags with long battery lifetimes up to 15 years
HEAD OFFICE (UK)
Ubisense Limited
St Andrew's House
St Andrew's Road
Chesterton
Cambridge, CB4 1DL
United Kingdom
+44 1223 53 5170
NORTH AMERICA
Ubisense America LLC
1630 Welton Street, Suite 1000E
Denver, CO 80202
United States
+1 720 549 7553
EUROPE
Ubisense GmbH
Klaus-Bungert-Straße 5B
40468 Düsseldorf
Germany
+49 211 2297330
Ubisense SAS
52 Boulevard De Sébastopol
75003 Paris
France
+33 1 83 79 06 82
JAPAN
Ubisense Japan
Rakuten Crimson House
1-14-1 Tamagawa
Setagaya City Tokyo
158-0094 Japan
+81 3 4577 8372