SmartSpace® Solutions are the ready-made way to get the most out of SmartSpace with minimal setup and configuration. Tracking the real-time location, interaction and status of both people and objects can be a complex process, but SmartSpace's turnkey solutions are ready to go, fully supported, and have a 10-year track record of success across various industries worldwide.
What can you do with SmartSpace?
SmartSpace® supports a library of common use cases across a variety of industries, proven in many large-scale deployments. The no-code platform can also be used to create highly customised location-aware applications for more unique, complex, and interconnected processes.
1 Production logistics: Track the real-time flow of parts to the production line to prevent stoppages and optimise resources
2 Tool management: Locate and control the use of tools to prevent errors and automate processes to improve productivity
3 Process monitoring: Digitise processes with real-time location data to improve productivity, quality, and safety
4 Yard management: Locate finished or part-finished work-in-progress across indoor and outdoor areas to reduce search waste
5 Logistics control: Track material handling equipment utilisation and control delivery tasks to optimise operations
6 Offline rework: Monitor the movement of products and tools after assembly to optimise inspection and rework
7 Tool control: Track real-time positions of cordless assembly tools and products to improve quality and throughput
8 Sequence control: Bolt-level accuracy of tool control operations to error-proof critical fastening operations
9 Process verification: Error-proof critical assembly operations to improve quality and reduce rework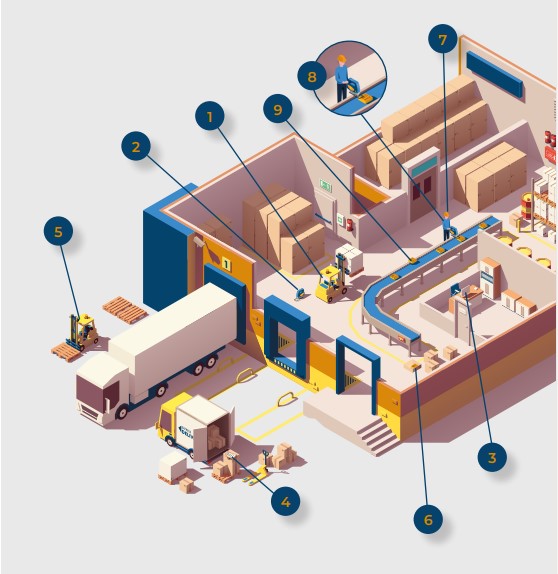 Production Logistics
Tracking material flow across manufacturing sites prevents shortages and production downtime. A digital twin of the production environment is created within the SmartSpace software with precise 3D spaces, configured for important logistic areas, including the warehouses, lineside buffers, handover areas and linefeed areas. Users can search for types of parts of materials and can easily locate them across the site on an interactive digital map.
Dashboards show the real-time quantity of parts or materials in the defined spaces, highlighting when quantities are approaching or below optimum levels. More detailed reports can show individual levels of parts or materials across the plant. Custom rules can be configured for individual fulfilment priorities alerting users of potential congestion or starvation of critical material. SmartSpace uses real-time location movement and location data from sensors that track individual parts or material handling equipment as they move around the site. Dashboards automatically update with current levels of availability and give production teams accurate information to optimize operations.
Tool Management
Locate, coordinate and control the use of tools in real-time across both indoor and outdoor facilities.
Eliminate search time, automate processes, and prevent incorrect tool usage. See all tools in real-time in an interactive map of your facility.
Tools can be assigned unique digital representations and can be searched for by asset type, name, status, and zone. Click any asset to study more detailed information and to set alerts.
Process Monitoring
SmartSpace continuously monitors the movement of WIP throughout the production process, revealing real-world production flow and detecting deviations from plan. This instantaneous view of production reality enables operations teams to proactively optimise productivity and quality, while enabling continuous improvement teams to quickly identify process waste and instability.
Problems:
Wasted time searching for WIP
Delayed WIP stuck between process steps
Quality issues arising from missed or incorrect process steps
Bottlenecks caused by frequently-overrunning processes
Increased productivity and quality through better coordination of complex processes
Reduction in labour costs
Improved order-to-delivery time
Reduction in WIP inventory
Reduction in cycle time
Low productivity caused by inefficient routing of work orders through available work zones
Low productivity driving WIP inventory build-up and
labour costs required to hit delivery schedules
Solutions:
Real-time location of all WIP
Automatic alerts highlighting delayed WIP
Real-time detection of process sequence errors
Automatic identification of unstable processes
Identify priority WIP and match with available resources
Value:
Increased productivity and quality through better coordination of complex processes
Reduction in labour costs
Improved order-to-delivery time
Reduction in WIP inventory
Reduction in cycle time
Yard Management
Locate and manage Work-In-Progress (WIP) in real-time across both indoor and outdoor storage areas.
Ubisense Yard Management creates a digital twin of your indoor and outdoor yards, defining storage, work and dispatch zones and tracking the real-time movement of products through them.
• Reduce capital and operational costs through better resource utilization​
• Increase productivity and reduce process cycle time​
• Eliminate search-time waste 
Logistics Control
Digitize delivery operations and track equipment utilization.
SmartSpace digitizes delivery operations and tracks equipment utilization. The software includes a dashboard where users can assign deliveries to operators, track delivery tasks through to completion and monitor and optimize resource utilization.
The "Delivery" screen shows tasks already completed, those currently assigned and in progress, and those yet to be assigned. Users can assign delivery tasks to operators, and a popup shows the equipment available to associate with the delivery and its location on site. Once assigned, the operation appears under the "Assigned" table.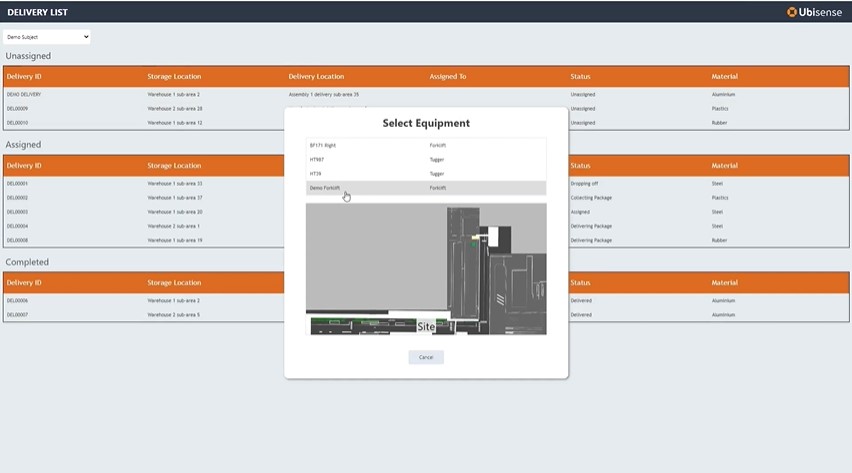 The current location and status of all equipment and operators across the site can be viewed on a digital map. Filters and searches enable users to view the current availability and assigned tasks of both equipment and operator, as well as the history of delivery tasks for a specified period of time.
The entire logistics process is tracked in real-time with guided instructions for operators. SmartSpace shows the equipment assigned to each delivery task and controls the instructions given to the operator via a digital display. Using precise location and movement tracking, SmartSpace knows when the material handling equipment arrived at the designated pickup area. Once delivery is complete, operators are directed to the location of their next task. If delivery is made in the wrong area, alerts will be sent and operators will be guided to the correct location.
Offline Rework
Monitor the movement of products and tools after assembly to optimise inspection and rework
SmartSpace's offline rework solution helps vehicle manufacturers sustain continuous flow and optimize efficiency in the repair and rework department. As a result, this offering delivers measurable productivity gains by reducing errors and wasted time, and significantly improving production qualityBring an unprecedented level of visibility and control to the offline process, allowing frontline managers to more easily visualize process status and the real‐time location of all work-in-progress (WIP). Additionally, SmartSpace automatically monitors and measures processes and generates alerts when deviations from plan occur. This level of real-time insight dramatically improves quality, productivity and operational decision-making.
Tool Control
Directly control wireless tools in real-time on fast-moving or complex assembly lines.
Ubisense Tool Control accurately locates assembly tools and enables the correct operation in precisely defined work zones. Remove the limitations of corded tools, mechanical tethers and fixed workstations to improve quality, increase flexibility and reduce costs in highly stressed continuous production processes.

Sequence Control
By precisely tracking tool position and orientation, assembly devices can distinguish between adjacent fasteners to ensure the correct tightening sequence is followed for critical operations.
Control tightening sequence and torque settings
Automatic digital audit of completed fasteners
Configure multiple tool zones on the same product
Enable multiple tightening sequences on the same line
Corrects for poor lighting and recessed fastenings
Process Verification
Errorproof critical assembly operations to improve quality and reduce rework.
Lightweight tags are attached to the critical parts and equipment in the assembly process, such as tools, scanners, materials or fluid dispensers. By combining location data and business rules, all necessary operations can be validated. If an operation is not fully completed, an alert can be sent and a product can be prevented from leaving a station. Errors such as fitting a part to the wrong area of a product can be prevented in real-time, preventing costly rework or product warranty claims in the future.
"Ensure process compliance on every build."
Why Ubisense
Ubisense is proud to work with leading organizations around the globe, helping improve the management of tools and equipment, using a wide variety of proven, real-time location system technology to deliver the following outcomes:
Elimination of search-time waste
Prevention of critical equipment flight-risk or Foreign Object Damage (FOD)
Increased productivity and reduced process cycle time
Reduced capital and operational costs through better

resource utilization
HEAD OFFICE (UK)
Ubisense Limited
St Andrew's House
St Andrew's Road
Chesterton
Cambridge, CB4 1DL
United Kingdom
+44 1223 53 5170
NORTH AMERICA
Ubisense America LLC
1630 Welton Street, Suite 1000E
Denver, CO 80202
United States
+1 720 549 7553
EUROPE
Ubisense GmbH
Klaus-Bungert-Straße 5B
40468 Düsseldorf
Germany
+49 211 2297330
Ubisense SAS
52 Boulevard De Sébastopol
75003 Paris
France
+33 1 83 79 06 82
JAPAN
Ubisense Japan
Rakuten Crimson House
1-14-1 Tamagawa
Setagaya City Tokyo
158-0094 Japan
+81 3 4577 8372