How Real-Time Location Systems Work
Learn how different Real-Time Location Systems (RTLS) work including Ubisense Dimension4 Ultra-Wideband (UWB).
Locating with Radio Frequency (RF) Signals
Radio-frequency (RF) systems calculate location using either the distance of a transmitter relative to a receiver, or the angle (direction) of a transmitter relative to a receiver.  Measurements from multiple receivers are cross-referenced to determine location.
How Distance is Measured
There are different ways of determining the distance of a transmitter relative to a receiver using attributes of the RF signal.
How Angles are Measured
The angle at which the RF signal arrives at the receiver from the transmitter can be measured in single or multiple dimensions.
Challenges of locating indoors
Only direct path signals between transmitter and receiver give a reliable basis of measurement.  With conventional RF, reflections of the signal in indoor environments distort the direct path signal.  When direct path and reflected signals overlap it makes interpreting accurate location difficult. 

Locating indoors with Ultra-Wideband (UWB)
With Ultra-Wideband (UWB), signal pulses are much shorter and use a wider frequency bandwidth. The shorter UWB pulses don't overlap with reflected signals, which means the direct path signal is more easily distinguished from reflections, making interpreting accurate location easier.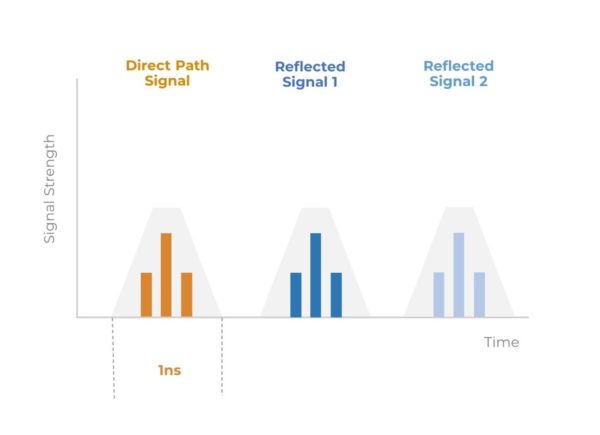 Not all Ultra-Wideband (UWB) systems are the same
Ubisense Dimension4 UWB is unique in measuring both 2-axis Angle-of-Arrival (AoA) AND Time-Difference-of-Arrival (TDoA) in the same system for superior performance, accuracy and reliability.
Ubisense Dimension4 UWB
Significantly more location measurements than any other UWB RTLS
More accurate and precise location data with unrivaled confidence
Fewer sensors required for 3D locations than comparable systems
Tag transmitters do not require 2-way measurements
Very long tag battery life up to 15 years
High quantities of tags can be used without interference
Sophisticated sensor design with edge data processing
Capable of scaling to 1000's of tags with 1000's of updates per second
Real systems deployed with over 2000 sensors operating 24/7

How can we help
transform your business?
Get in touch to discuss how Ubisense SmartSpace and Dimension4 can make your business more productive, flexible, profitable and safe.
HEAD OFFICE (UK)
UBISENSE LIMITED
ST ANDREW'S HOUSE
ST ANDREW'S ROAD
CHESTERTON
CAMBRIDGE, CB4 1DL
UNITED KINGDOM
+44 1223 53 5170
NORTH AMERICA
UBISENSE AMERICA LLC
1630 WELTON STREET, SUITE 1000E
DENVER, CO 80202
UNITED STATES
+1 720 549 7553
EUROPE
UBISENSE GMBH
FRANZ-RENNEFELD-WEG 6
40472 DÜSSELDORF
GERMANY
+49 211 229733-0
UBISENSE SAS
52 BOULEVARD DE SÉBASTOPOL
75003 PARIS
FRANCE
+33 1 83 79 06 82
APAC
UBISENSE JAPAN K.K.
INSPIRED.LAB.
OTEMACHI BUILDING 6F
OTEMACHI 1-6-1
CHIYODA-KU TOKYO
100-0004 JAPAN
+81 3 4577 8372