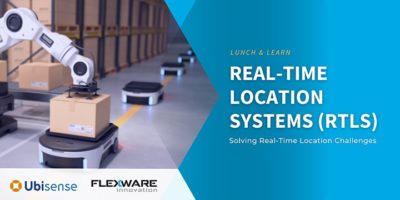 Innovation for a Real-Time Location Systems (RTLS)- Solving Real-Time Location Challenges
Ubisense will be demonstrating alongside our partner, Flexware Innovation, how companies are solving complex location-related problems with real-time technologies.
What challenges can an RTLS solution address? Just about any manual process where these problems might occur:
Location: Things can't be located or are in the wrong place
Interaction: Two or more things are (or are not) interacting as they should be
Count: There are too many or too few things in a certain place
Time: A task has taken too long, or not long enough
Sequence: Things are happening in the wrong order
In this presentation, you will be briefed on the intricacies and considerations of RTLS, when RTLS might be (or might not be) a better solution than others (RFID), and we'll finish with a hands-on, immersive learning experience of RTLS in action in Flexware's RTLS Lab.
The Optional "Meet the Engineers" section of this event allows you to meet with senior engineering teams and dive deeper into your unique challenges and the application of RTLS in your organization. Walk away with your specific questions answered.