Meet one of the world's foremost experts in the aerospace industry – Dr Hugh Revie from Ubisense.
Ubisense Sales Director for Aerospace, Dr Hugh Revie, will deliver a presentation on the topic of 'Creating an MRO Digital Twin of Your Processes' at the AIR Convention Europe 2019.
About Ubisense
Ubisense transforms physical spaces into smart spaces, bringing manufacturers proven gains in quality, cost, and productivity. Our SmartSpace platform monitors the physical flow of the factory creating a real-time "digital twin" of the process. This Digital Process Twin provides the deep situational awareness that empowers people to make more insightful decisions, and business systems to operate with foresight and certainty. With offices in the UK, France, Germany, North America, Canada and Japan, Ubisense has more than 900 customers across the globe, and has enabled many to implement their factory digitisation strategies.
About AIR Convention Europe
AIR Convention Europe is a new milestone among the most significant events of commercial aviation. It stretches over 3 days and is strongly focused on innovation. With the presence of high-level representatives from the world's leading airlines, airports, and other key industry players, the event puts the European aviation market into the main spotlight. It aims to explore the most progressive solutions of the market to ensure its stable growth and provide a venue to start successful business communication.
Ubisense Presentation at the Conference: Creating an MRO Digital Twin of Your Processes by Dr Hugh Revie
Imagine an environment where all employees know where everything is – what is currently being worked and what is next to be worked. All tasks, tools, material, and people are managed effectively to help provide a significant improvement to the efficiency of the MRO process. With ever-increasing amounts of data being captured, the technology is now available to utilise this data to the benefit of the MRO organisation.
Ubisense have developed a highly accurate and industrially proven indoor location hardware solution that works efficiently with most other location technologies including bluetooth, RFID, barcodes, GPS etc. The software platform, SmartSpace takes input from any location technology and translates the input to create a valuable digital representation of the MRO facility as it is working and enables reports to be created to help analyse and continually improve the MRO operation.
During this presentation, it will be shown how companies have been able to improve their efficiency by more than 20% by using this technology. In an MRO environment, this improvement equates to a significant financial benefit.
You will hear success use cases from aerospace and other industries including manufacturing, logistics, entertainment etc, where the same technology is used to drive efficiencies during manufacture and during aftermarket.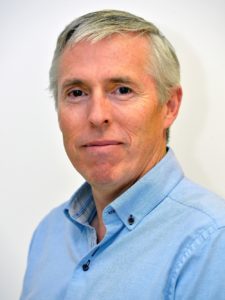 Written by Dr Hugh Revie, Sales Director Aerospace EMEA at Ubisense
Hugh is one of the world's leading experts in the Aerospace industry. Hugh has now been working in Aerospace for more than 30 years and, prior to joining Ubisense, started his career in aviation after graduating with a doctorate in Engineering and, initially working for British Aerospace. Around 18 years ago, he created his own company, CoreData Limited, focused on helping airlines, MROs, OEMS and aircraft supply chain companies with solutions that could drive value from the large amounts of data they were accumulating. He finally sold the company to Rolls Royce. Since then he has been working with customers to improve efficiencies by using their own data and continues to do this with Ubisense.