Booth # 428, Santa Clara Convention Center, Silicon Valley, California
Secure a meeting for a personalised demo now for a chance to WIN a Google Nest Hub – given away daily at our booth!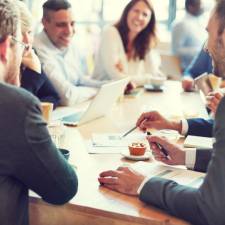 Represented by Scott Mullarkey, Executive VP Sales North America, Brad Williams, Director of Sales North America, Chris Hannaby, Soluton Architect North America, Casey Riva, Pre-Sales Consultant North America, and Adrian Jennings, Chief Product Advocate, who will deliver a presentation on 'How IoT can lead us to look for solutions in all the wrong places'.
Secure a meeting with the Ubisense team to get a personalised demo of SmartSpace applications. You may even WIN a Google Nest Hub – given away daily at our booth!
About Ubisense
Ubisense transforms physical spaces into smart spaces, bringing manufacturers proven gains in quality, cost, and productivity. Our SmartSpace platform monitors the physical flow of the factory creating a real-time "digital twin" of the process. This Digital Process Twin provides the deep situational awareness that empowers people to make more insightful decisions, and business systems to operate with foresight and certainty. With offices in the UK, France, Germany, North America, Canada and Japan, Ubisense has more than 900 customers across the globe, and has enabled many to implement their factory digitisation strategies.
About The IoT Tech Expo 2019
The IoT Tech Expo brings together key industries from across the globe for two days of top-level content and discussion across 5 co-located events covering IoT, 5G, cyber security, cloud, blockchain, AI and big data. It is aimed at exploring thee latest innovations within the Internet of Things and covering the impact it has on many industries including manufacturing, transport, supply chain, logistics, automotive, construction, government, energy, utilities, insurance, healthcare and retail. Key topics examined include: IIoT, connected fleet, smart logistics, building automation, smart grids, energy, cities, future of manufacturing, connectivity solutions, transport management, connected vehicles, asset monitoring, device management and more.
Ubisense Presentation at The IoT Tech Expo 2019 – by Adrian Jennings: Extending the Digital Twin to Manual Processes
IoT focuses on connectivity between "things" – devices, machines, tools etc., but in certain industries processes are still overwhelmingly planned, supervised and executed by people. In this presentation Adrian Jennings describes how the standard notion of the IoT "Digital Twin" has limited value in these applications, leaving large parts of critical processes completely opaque and unconnected. Using real-world case studies as examples, Adrian will explain technologies that are extending the Digital Twin to encompass manual activities and how significant value is being created as a result.
Adrian Jennings, Chief Product Advocate
Adrian Jennings serves as Chief Product Advocate for Ubisense. In this role he acts as a spokesperson, accelerating development and adoption of Ubisense's SmartSpace platform by working with all stakeholders from initial vision through successful use. He brings the vision of the product to the market, helping evangelise this new category of spatial digitisation platform, and brings the vision of the market to the product, helping Ubisense align around a common goal.
Prior to joining Ubisense Jennings was CTO of Time Domain, a location technology provider for both civilian and military use. He is a recovering rocket scientist, and as designated UK intelligence expert spent three years as a missile consultant with the US Department of Defence. He received a master's degree in physics from Oxford University and now finds himself bemusedly working for a Cambridge company.
Scott Mullarkey, Executive VP Sales – North America
Scott Mullarkey serves as the Executive Vice President of Sales for the Americas. In this role he works with existing and new customers to create business value using the unique aspects of Ubisense technology. This includes using Ubisense location technologies for process and business performance improvement.  Scott and his team focus on Aerospace & Defence, Automotive and Commercial Vehicles & Agricultural Machinery verticals.
Scott has spent more than 10 years in Silicon Valley as an executive in the software industry leading sales, business development and partnership development teams for leading edge companies.  Scott's focus is enterprise software including Manufacturing Execution Systems (MES), ERP, Operating Systems, Software Development Platforms and Middleware with various sales and delivery models including IaaS, SaaS, PaaS and BPMaaS.
Prior to that, Scott started his career as a software developer in manufacturing engineering working for Electronic Data Systems supporting General Motors and various semiconductor manufacturing companies.
Scott received his Bachelor's Degree in Technology from Purdue University.
Brad Williams, Director of Sales – North America
Brad Williams serves as the Sales Director for the Americas focusing on the Aerospace, Defence and Heavy Equipment verticals.  In this role, he engages with customers and partners to gain an understanding of manufacturing and operational challenges in which Ubisense solutions can bring operational improvements and business value.
Brad has more than 20 years experience working with manufacturing companies in providing solutions which improved operational process and efficiency in aerospace, defence, automotive and commercial vehicle industries.  He is highly adept in learning and working with large organisations, identifying their critical business issues, and aligning his organisations' resources to deliver solutions to address those critical issues as well as align to key strategies and KPI's for maximum value creation.
Brad received a Bachelor of Business Administration Marketing/Marketing Management degree from Northwood University.
Fernando A. Garcia, Director of Sales – North America
Fernando A. Garcia serves as the Sales Director for the Americas focusing on the Automotive, Commercial Vehicle and Transit verticals. In this role, he engages with customers and partners in assessing their current manufacturing, operations and location challenges to guide and provide a sustainable solution through Ubisense's offerings.
Fernando comes from a broad range of roles all comprising within the manufacturing realm throughout his 15+ years in the industry.  These range from Plastics Engineering, Process & Manufacturing Engineering, Operations Management, Program Management, to Marketing and Sales.
Prior to joining, Fernando, was the Director of Manufacturing Digital Transformation in a prominent IT Consultancy in the Americas.  He has received his B.S and M.S. in Engineering from Kettering University in Flint, MI. Additionally, he has rounded the technical education with an MBA from The University of Chicago Booth School of Business.
Chris Hannaby, Solution Architect – North America
As a Solution Architect, Chris specialises in helping customers solve their problems using the Ubisense SmartSpace platform. Over the past 6 years Chris has worked with companies around the world to deliver novel applications that automate, error proof and provide visibility into a range of manufacturing processes. Chris is an expert at integrating SmartSpace with the full gamut of business and shop floor systems found in a typical assembly facility, from MES and ERP systems to PLCs and tool controllers. Prior to joining Ubisense Americas, Chris worked at Ubisense HQ in Cambridge, initially as a Pre-Sales consultant and then as a Product Manager for the SmartSpace platform. Chris received his Master's degree in Chemical Engineering from the University of Cambridge.
Casey Riva, Pre-Sales Consultant – North America
Casey Riva has been implementing Ubisense Solutions across the market for the past 8 years. Currently serving as a Pre-Sales Consultant, he brings along his vast product expertise and real-world success stories when advising on new opportunities and applications. Working across the automotive, aerospace, transit, and healthcare industries he has provided unique insight into identifying process issues, improving efficiency and delivering automation with SmartSpace. Casey received his Bachelor's Degree in Computer Science from Western Colorado University.
Secure a meeting with the Ubisense team to get a personalised demo of SmartSpace applications.