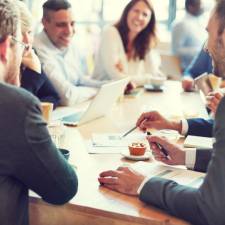 Ubisense Chief Product Advocate, Adrian Jennings, will deliver a presentation on the topic of 'Leveraging Industry 4.0 to increase Rate' at the PACIFIC NORTHWEST AEROSPACE ALLIANCE  2020. Keep reading to find out more or to request a demo with Adrian or the Ubisense team.
Pacific Northwest Aerospace Alliance (PNAA)
PNNA is a non-profit organization made up of coalition of aerospace companies that serve North America's largest commercial aerospace manufacturing cluster which centers round The Boeing Company just outside of Seattle, Washington. With members and affiliates around the world, PNAA strengthens the manufacturing supply chain through dynamic events designed to inform aerospace leaders, connect aerospace interests, and inspire industry collaboration and innovation.
PNAA hosts a number of conferences, workshops and symposiums throughout the year that are designed to connect companies within the aerospace supply chain.
Adrian Jennings, Chief Product Advocate
Adrian Jennings serves as Chief Product Advocate for Ubisense. In this role he acts as a spokesperson, accelerating development and adoption of Ubisense's SmartSpace platform by working with all stakeholders from initial vision through successful use. He brings the vision of the product to the market, helping evangelise this new category of spatial digitisation platform, and brings the vision of the market to the product, helping Ubisense align around a common goal.
Prior to joining Ubisense Jennings was CTO of Time Domain, a location technology provider for both civilian and military use. He is a recovering rocket scientist, and as designated UK intelligence expert spent three years as a missile consultant with the US Department of Defence. He received a master's degree in physics from Oxford University and now finds himself bemusedly working for a Cambridge company.
Scott Mullarkey, Executive VP Sales – North America
Scott Mullarkey serves as the Executive Vice President of Sales for the Americas. In this role he works with existing and new customers to create business value using the unique aspects of Ubisense technology. This includes using Ubisense location technologies for process and business performance improvement.  Scott and his team focus on Aerospace & Defence, Automotive and Commercial Vehicles & Agricultural Machinery verticals.
Scott has spent more than 10 years in Silicon Valley as an executive in the software industry leading sales, business development and partnership development teams for leading edge companies.  Scott's focus is enterprise software including Manufacturing Execution Systems (MES), ERP, Operating Systems, Software Development Platforms and Middleware with various sales and delivery models including IaaS, SaaS, PaaS and BPMaaS.
Prior to that, Scott started his career as a software developer in manufacturing engineering working for Electronic Data Systems supporting General Motors and various semiconductor manufacturing companies.
Scott received his Bachelor's Degree in Technology from Purdue University.
Brad Williams, Director of Sales – North America
Brad Williams serves as the Sales Director for the Americas focusing on the Aerospace, Defence and Heavy Equipment verticals.  In this role, he engages with customers and partners to gain an understanding of manufacturing and operational challenges in which Ubisense solutions can bring operational improvements and business value.
Brad has more than 20 years experience working with manufacturing companies in providing solutions which improved operational process and efficiency in aerospace, defence, automotive and commercial vehicle industries.  He is highly adept in learning and working with large organisations, identifying their critical business issues, and aligning his organisations' resources to deliver solutions to address those critical issues as well as align to key strategies and KPI's for maximum value creation.
Brad received a Bachelor of Business Administration Marketing/Marketing Management degree from Northwood University
Casey Riva, Pre-Sales Consultant – North America
Casey Riva has been implementing Ubisense Solutions across the market for the past 8 years. Currently serving as a Pre-Sales Consultant, he brings along his vast product expertise and real-world success stories when advising on new opportunities and applications. Working across the automotive, aerospace, transit, and healthcare industries he has provided unique insight into identifying process issues, improving efficiency and delivering automation with SmartSpace. Casey received his Bachelor's Degree in Computer Science from Western Colorado University.
Steve Milliren, Sales Executive – North America 
Steve recently joined the Ubisense team from ESI Group, where he was responsible for managing large clients within the Aerospace and Automotive industry. Having spent over 30 years in sales, Steve has strong background in technology including being very comfortable with the concepts of RTLS & Digital Twin. Steve graduated from the University of Texas at Arlington.
Conference Room #1A, Lynnwood Convention Center, Seattle, USA
4-6 February 2020