SAUDIA Group subsidiary, SAEI establishes a new relationship with Ubisense
Dubai, December 7, 2022, Saudia Aerospace Engineering Industries (SAEI), a subsidiary of SAUDIA Group, and Ubisense, the Cambridge UK-based leading Location Intelligence platform provider, will embark on an innovative digitalization initiative. The Ubisense SmartSpace® platform will be applied to create 'Smart Hangars' at SAEI.  In partnership with Ubisense, SAEI will build a precise real-time digital-twin of hangar operations, enabling unprecedented levels of visibility, control and audit of process.
Captain Fahd H. Cynndy, Chief Executive Officer, SAEI, and Ms. Clare Colhoun, Chief Executive Officer, Ubisense, held the collaboration signing ceremony at MEBAA 2022, on the SAEI stand. The event was attended by His Excellency, Ibrahim Al-Omar, SAUDIA Director-General, and executive team members from both organizations.
Following the recent conclusion of a highly successful pilot, SAEI hangars will now be equipped with Ubisense Dimension4 ultra-wideband sensors that monitor the precise three-dimensional location and movement of tags assigned to all personnel and moving assets working within the hangar.  Spatial zones are defined in the digital-twin within which the movement and dwell times of operators, tools, and equipment are continuously measured, recorded and compared to the task plan. The continuous and automated measurement of real-world task activity will shine a light on hangar operations in a completely new way, enabling SAEI to increase productivity, optimize safety, reduce inefficiencies, and significantly improve forecasting and planning accuracy.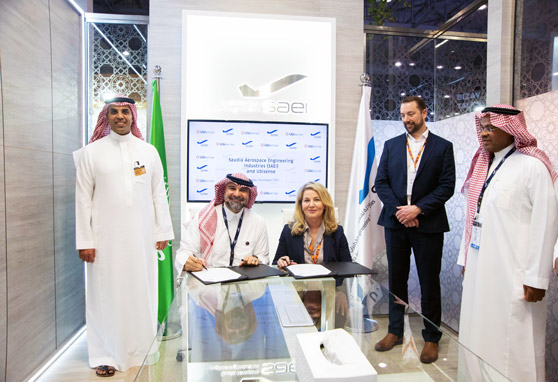 About Saudia Aerospace Engineering Industries (SAEI)
Partnered with the national airline of Saudi Arabia, Saudia Aerospace Engineering Industries (SAEI) serves regional and global clients from a network of more than 50 locations around the globe. For more than 60 years, SAEI has been a regional leader in the provision of aviation services, leveraging technical expertise, logistic capabilities, and supply chain to deliver end-to-end aircraft maintenance, repair, and overhaul solutions. SAEI strives to be a partner of choice and a catalyst for the success of aviation. For media inquiries contact: Sarah Palmer, [email protected] +966 533 087 774
About Ubisense
Ubisense gives software systems intelligence about what's actually happening in the real world by tracking the real-time location, movement and interaction of people, devices and products through its SmartSpace® software platform and Dimension4 Ultra-Wideband sensors. Through an open architecture platform, business users can easily configure the planning, monitoring and control of physical process flows. Headquartered in Cambridge UK, Ubisense operates globally with more than 1000 customers, transforming their physical space into SmartSpace®. For more information visit: Ubisense – Ultra-Wideband Real-Time Location System (RTLS)
For media inquiries contact: Berkeley Communications, [email protected] +44 (0)1189 090909